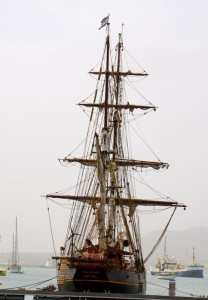 The other day Bruno told me that pirates entered the bay ! I immediately jumped out of the ship to see a beautiful square rigger enter the marina. We soon after met part of the crew in the marina bar and were invited to have a look of that great sailing vessel.
The by far most fascinating thing about the Tres Hombres is that it's actually a merchant vessel ! The tree owners decided to revive the old days in which sailing ships would deliver cargo around the world and doing the same now in our modern times. They've got no problem to find crew that will help run the ship an deliver mostly ecological goods from here to there. Right now they've got rum, chocolate and wine to bring to New York.
The whole ship is full of tradition and smeels of old wood. The engine got replaced by a nice library. So the Tres Hombres is a 100% sailing vessel. Amazing !!
The next stop will be in Barbados and they'll start monday next week. So we might meet somewhere on the atlantic or on the other side. Let's see.