Up until October 2012 we were proud owners and inhabitants of the Rancho Relaxo of the Seas. After we shipwrecked at the atoll of Tetiaroa, the Rancho was towed to Tahiti. Her current location is in the Opunohu Bay in Moorea where her new owner will restore her.
MMSI: 203590200       Callsign: OEX7194
The Goodship Rancho Relaxo of the Seas is a Feltz Skorpion IIa, Built in 1980. Feltz Yachts are known to be very sturdy and weatherly and have found their ways to all oceans of this world. Thus the decicion was an easy one when we bought our little vessel in 2009.
The name of course is taken from the Simpsons episode 8F14 'Homer Alone', in which Marge looses her nerves and has to spend a couple of days in 'Springfield's only 2-star Spa' – the 'Rancho Relaxo'.  "Swim, play tennis, or just sit and stare at the walls." (TV Ad for the Rancho Relaxo)
Here a short description of the Rancho Relaxo:
Hull:
Steel, long-keeled
Length: 11,20m
Beam: 3,25m
Draft: 1,80m
Displacement: ~12 tons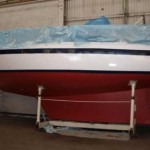 Deck:
Flushdeck with centercockpit. Four big hatches , sprayhood, liferaft, windsteering (Atlantic Plus), another anchor, lifesling, IOR-MOB buoy, Yamaha outboard with 4 hp, etc.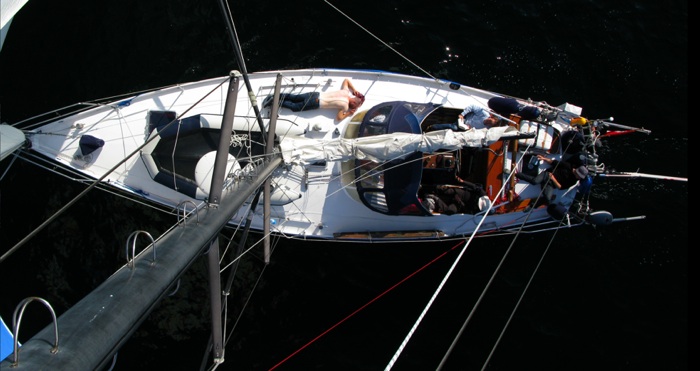 Rigg:
13,50 m 'Jan' – Mast with steps
1x 12 mm forestay with Furlex 300 S roller furling
1x 8 mm forestay
4x 8 mm lower shrouds
4x 8 mm upper shrouds
2x 8 mm backstays – one of them insulated (SW-antenna)
Boom with boomclaw and kicking strap, lazyjacks
Sail area  ca. 70 m²
Sails:
Genoa 2 (38 m²)
Genoa 3 (28 m²)
Jib 2 (21 m²)
Stormjib (5 m²)
Main sail with 3 reefs (26 m²)
Trysail (7 m²)
Two Passat sails (34 m²)
Blister (84 m²) with nice eighties-coloring ;-)
All sails are made by Lee Sails.
Energy supply:
One lead acid battery (108Ah) for the engine and 4x 108Ah batteries are charged by:
two solar panels, mounted at the pushpit with 2×100 W or
a wind generator with max. 400 W or
the battery charger powered by shore power or…
the 700 W alternator + Sterling regulator – should the engine be running.
Most of our electrical stuff runs on 12V, but we also have 230V sockets all over the ship that are powered by a 2000W sinus inverter.
Communication:
VHF-radio Northstar 725 with DSC (for short distances)
additional, floating VHF handset Standard Horizon HX750S
SW-radio ICOM IC-718 with Pactor 3 – modem for email and weather info
Inmarsat IsatPhonePro satellite phone
Satellite/GPS sender 'Spot' for position reports and emergencies (the size of a mobile phone)
GSM/UMTS quad band mobile phone – to be used with prepaid cards
Navigation:
Furuno GPS32 (Yay !! The classic !)
Raymarine C70 Chartplotter docked with an AIS, 2kW Radar and GPS
Raymarine ST60+ Tridata connected to log and echosounder
Hand-GPS Garmin Foretrex 401
kompensated binnacle compass, handbearing compass
7×50 binoculars with integrated compass (Steiner)
Safety:
Watermaker drinKING ex
Zodiak life raft for 6 persons
Epirb GME MT403FG
SeaMe aktive Radar-transponder
Marking-buoy, handflares, Smokepot, Signalrockets, Lifevests, Lifebelts, etc…
Main anchor with 25kg and 70m, 10mm chain.
Secondary anchor with 20m, 8mm chain and 40m anchor line
On the inside:
Forepeak:
Forepeak with two berths, the lower one can be extended to form a double berth. One big hatch and two small ones on the sides, one locker and many small compartments. The forepeak is seperated from the saloon with a door.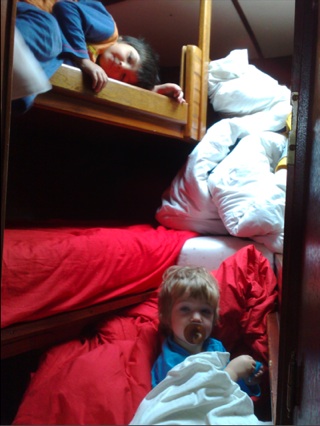 Bathroom:
Between forepeak and saloon, on the port side is our little bathroom with the classic manually activated head and lots of storage space. The bathroom also has a hatch.
Saloon, chart table, quarter berth and pantry

Aftward from the forepeak on the starboard side there are two big lockers; one for provisions and one for clothes. Aftward from that is the chart table with Furuno GPS, VHF radio, SW radio, charts and lots of other stuff needed for navigating. Underneath the table is another big locker for tools and parts.
Amidships on the port side is a big table for approx. 6 people. Underneath the bench is room for stowage (mostly provisions). The watermaker and a small tank for drinking water (ca. 20 l) is also mounted in there. The table can be lowered to create another double berth.
On the starbord side we find our beloved Taylor pressure cooker and a double sink with manual pump for drinking water and foot pump for sea- and freshwater. Of course the whole area is stuffed with small abd big lockers for all the kitchen stuff we carry. Towards the stern we find a gigantic but mostly unused fridge.
Portside, under the cockpit there is the quarter berth which actually is the most comfortable place to sleep while underway. There is a small bull's eye to look (and talk) to the cockpit. Underneath the quarter berth are more lockers, mostly used for spare parts. In between the saloon-bench and the quarter berth is our 'safety-locker' with all the life-vests, life-belts, signal rockets, smoke pot, sea anchor, etc.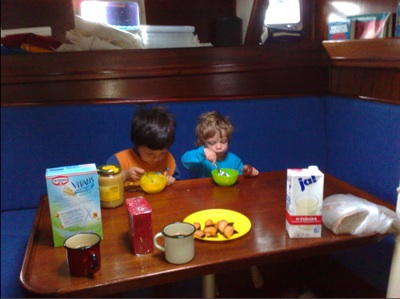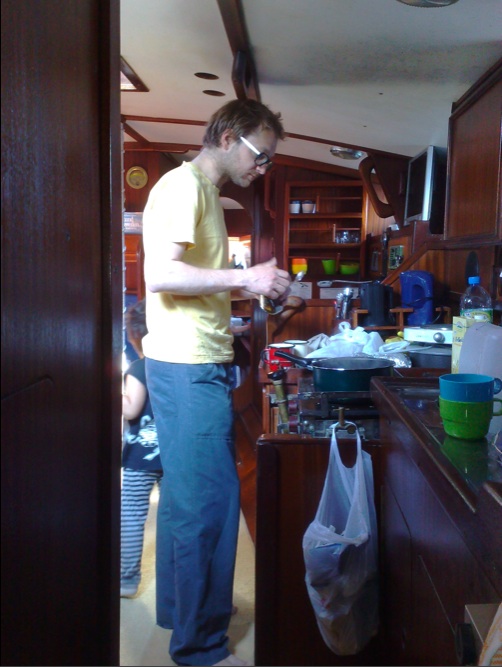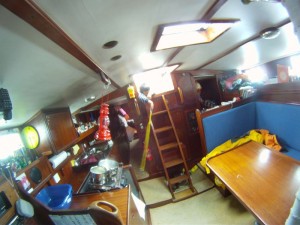 Aft cabin:
In between galley and cockpit is a small alleyway towards the aft cabin. Here we find another two lockers, a double berth and underneath there's lots of room for all kinds of stuff. This cabin also has two smaller hatches on the sides and a big one on the roof.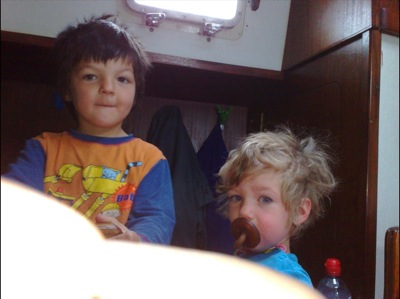 Keel and bilge:
Underneath the cockpit is a small room for storage about 1m x 1m x 1.4m which we use mostly for storing sails, our folding bikes, beer crates, etc. ;-)
Underneath that sorage room, in the keel there is our trusty old engine. A Mercedes diesel (OM636) with 42hp and underneath that is the fuel tank (125 l). Underneath the companyon way is the water tank (~320 l), and a little forward another fuel tank (120 l), which actually doesn't contain any diesel but four 108Ah batteries. ;-)