Yesterday we had a little pre-birthday party aboard the Rancho Relaxo. The official date is actually the 9th of July but as then most of our friends will have left, we moved the birthday a few days ahead.
So we made Pizza and had a few drinks and next day Gui was REALLY lucky and managed to organize her birthday present: A surfboard !!!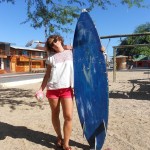 At first we thought it would be impossible since new boards are too expensive for us. But we found a used one for 90USD and of course immediately made the deal. Sunday we'll go camping for one night to Puero Chino and then Gui will give it a first try ! Yay !!