That's what we can read on the sign, when walking towards the dinghy dock. And this way we took a couple of times today. With a big crate filled with grapefruit, oranges and lemons. With bags of potatoes, carrots and onions. Small packs of fresh spices, apples, tomatoes, and some other stuff – as well as two whole bunches of bananas, about 30 kg.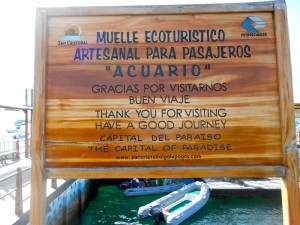 Well, we're moving our house again. Somehow sad because Galapagos was really fantastic. But we already gave away our passports to get the necessary stamps and tomorrow we'll pull the iron out of the sand and set sails.
Towards the Marquesas (yes, that destination is now clear !), across the "Big Blue". – 3000 miles without stop. And without the possibility of a stop. But we've done good shopping and I've got two new fishhooks. Should be good.
The day after tomorrow we'll might do another posting with pictures from the Isla Isabela (if we find internet there). Otherwise there will be our daily posts via shortwave radio as soon as we start the crossing.