In these last days all talk revolves around one thing: Garry. That's the cyclone that developed in the vincinity of Samoa and is now on the way to pass us in the west. Right now it's a category 3 and the forecast was not at all good. Locally we should have had 6.5m of swell and wind up to 40-50 knots. But right now it seems that the storm will not be that bad and it will pass with quite some distance.
But even then I still did some preparations: The main anchor is buried deep in the sand and we have 55m of chain out. That gives us a scope of 10:1 and should be quite safe. I also put a second anchor on the bow, ready to throw overboard. And we have another one on the stern – just in case. I also removed the big sunroof and removed all the loose stuff on deck. There's enough food and water on board to last a few weeks so I'd say we're prepared for bad weather.
Other than that I've been focussing on changing flags. I've sent emails to the insurance and to get an official measurement-paper for the boat. That is needed to apply for the austrian flag. It's all complicated and being on the other side of the world doesn't make it any easier. But I guess, we have that done in a few weeks.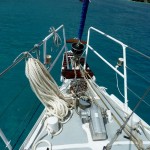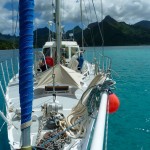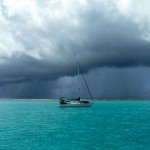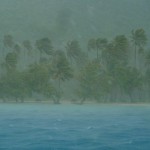 What else has happened. Ah, yeah, there was the thing with my bank card. It arrived with my christmas parcel a week ago. The thing is: for it to work, the card first has to be activated at an ATM of the Berliner Volksbank. Pitty that those are 20000km away. Well, the bank will send another card that doesn't need that activation. In the meantime I'll just try to sell some unneeded equipment for cash. Heh.