Here are pics of some time ago, when I went with the kids for a car ride while David was recovering from his hike.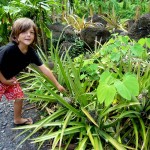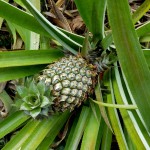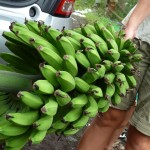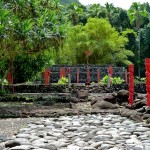 We visited Tahiti Nui and Tahiti Iti with Zac, Sylvie and Dan from the SY Ustupu. They rented a car and Dan managed to drive us all around, and although I wouldn't say he forgot how it works, I'm sure he did that a little smoother while living in Canada. Together we went looking for fruits near the streets and checked every surf spot of the island… They also started surfing in Galapagos and we where all keen to have a look at Teahopu, the legendary break. On that day the waves where not as impresive as during the Billabong Contest, but it was nice, there are very positive vibes on that whole area. I'm shure I'll be back some day…. but it could take a little while…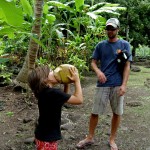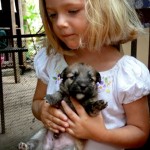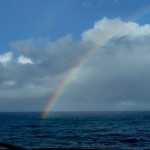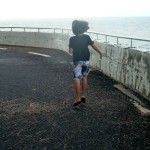 The last time I  took my board I got such a mighty wave, that it made me think about my kamikaze nature. It went rrrreally fast and was a massive fun the first seconds ! I was enjoying the speed with all my body and soul, but at the moment I realised I should start getting up and try to get out of there, I saw the reef aproaching. Coming in … three… two… one… SHIT !! I crashed full force into the coral and the only thing I could do was to grab my board as tight as possible and hope for the best. Well, I'm not dead, and got only a few scatches, so I guess it did went for the best ! Yeah, that was a wild ride. So, let's face the facts. My next surf is going to be at a SANDY beach, with little waves. No harm done.