The last 43 miles we sailed were quite meaningful. Being in the southwest caribbean a turn around would have still been possible. Now that we're through the canal, we've put the Atlantic ocean behind us and decided to go on and carry on. Turning back is not even an option. No, we've decided to go on and the next stops will bring us to Costa Rica, the Galapagos Islands and then towards French Polynesia which starts with the Marquesas – right in the middle of the biggest of all oceans. This is possibly one of the longest passages that lays ahead of us. During the last days some friends of us already left – directly towards the Marquesas. After you pass Galapagos there is no other island to stop. They have to cover 3800 miles, which means five to seven weeks on sea for the most of us. The SY Thor is underway already and the SY Murungaru didn't even stop after going through the canal !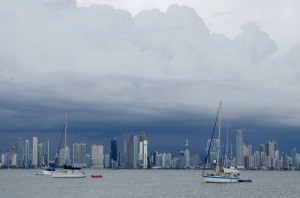 Sailing south towards the Galapagos islands means light to no wind. Going east brings no wind or headwind and this is where the next passage will lead us to. So we're waiting for a little change in weather which is quite unlikely as we're already in rain season. Towards Golfito in Costa Rica we've got to sail 350 miles. With a nice wind we would cover this in three days but right now you can only make use of the current and the land and sea breeze . This also would mean many stop overs and short trips in between. A way of sailing we've stopped to do since we left europe. After the first longer passages we discovered that it's better to do longer trips but also stay put in one place for a few weeks instead of days or mere hours. Where 'one place' doesn't have to mean one anchorage; for example, we consider Kuna Yala as 'one place'.
Right now we're anchored right in front of Panama City – I cannot stop looking at the skyscrapers with all their lights. Quite impressive to see and even more so after having spent many months without ever anchoring in front of a real city. But this skyline comes with a cost: the quality of the water here is really bad. Some go swimming – either because they have to or because one is clumsy – but usually that's not a good idea. Skin irritations and little wounds that get infected are sometimes the price to be paid. There are a few places to eat and a shop down near the 'dinghy dock'. I'll definately have to take pictures of this amazing piece of craftsmanship: The dinghy dock is connected to the island by 'ferry' (a little red dinghy that you use to reach the stairs in the wall. Hehehe. The Island on the other side is connected to the mainland by a long road but there are no buses. As taxi is the only way to reach the city, we haven't seen much of it until now, but maybe tomo rrow we'll set out to get some of the things we're in need of.