At 06:20h in the morning the alarm goes off. Just as the sun jumps over the mountain ridge and bathes the bay in a beautiful golden light. We eat breakfast on deck because a big school of dolphins entered the bay and is playing in between the neighbor boats. When we paddle ashore a little later, we go riht through the middle of a group of 20-30 dolphins that are now going down the channel and back into the bay. At shore a local fisherman gives us a few fish and he follows us to our car. – Yeah, for the first time in two years we got a car ! A very friendly family who's son goes to the kindergarden with Viola borrowed it to us. The catch is that it has a dead battery, so me and our fisher-friend push the car to start it.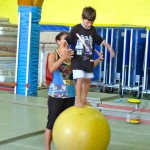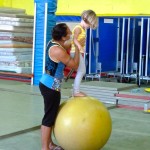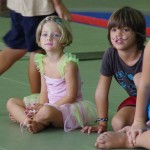 The school is closed for easter holidays but Bruno and Viola go to the Circus-school. There they do acrobatics, play clown and generally have a lot of fun. As it's the last day, we come early for the pick-up and the group does a presentation for us. Viola's friend Manoa comes back with us to the Suvarov. There's a little front approaching and the dinghy ride with five people is not as relaxing as it was during the morning. The three wild ones do a pirate fight across the deck and through the interior of our boat. When the rain starts drumming on the roof, Bruno and Viola get active collecting rainwater.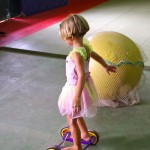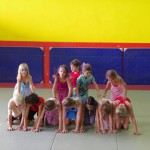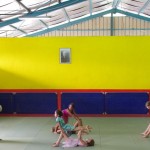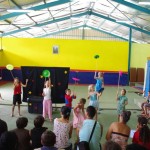 Uh, and I have some bad news: I was quite looking forward to the return of our DSLR but unfortunately the charger for our good camera stayed in South America. So I continued using the compact camera. And this rather poor replacement did a little dive in Viola's rucksack. Although the skipper ignored the sore foot and immediately jumped overboard for a rescue mission, it still got a few drops of water. Not more than during a snapshot in the rain but enough for it to wreck the battery. So now we have two compact cameras and a Pentax K5 without charger. The last cameras still in operation are the GoPro and my trusty old mobile phone which from now on will be the primary source of pictures for this blog. Uaaah !