Yesterday in the evening I took a shower.
That's nor unusual – or is it ? I started wondering… When was the last time I took a proper shower. – I mean: to stand in a room where fresh, warm water comes from the ceiling or wall. Was it in Barbados ? No. Cabo Verde ? No. The Canaries ? Ah ! Yes. It was in Las Palmas and it was on the 26.11.2011. It wasn't really warm but who needs that ? Ususally I swim around the boat in the morning and pour a little freshwater over my head. That's the cruiser's bath. Heh.
We've left Berlin seven months ago and sailed 6500 miles since that. One could say, we 'arrived' aboard, settled in. Yes. A washing machine is a unthinkable luxury, we use about eight liters of freshwater to shower the whole family. We bake fresh bread on a daily basis and the dinghy 100% replaced the bicicle. Our kids use the VHF to chate with their friends and make afternoon arrangements – everything completely normal.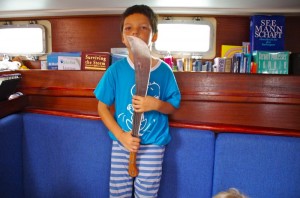 What's the best about our current lifestyle ? Dunno. Maybe it's the starry nights. Or that nobody was sick in the last six months. Or living outdoors and with the nature ? Maybe it's to encounter new countries and people. That's probably it, yes.
Now I'm finished with breakfast and we'll do a little work. I'll disassemble the pressure cooker and afterwards we'll sharpen our new machete. Yay !!